If you want to spend more time outdoors without travelling somewhere, or you really enjoy hanging outside at home, investing in your own customized outdoor space can pay dividends for years to come!
Here are several ideas for you to create your own backyard getaway.
Install a Swim Spa
Compared to traditional hot tubs, swim spas serve more than one purpose. These pools can be heated for year-round use, and are large enough for several people to enjoy at once for relaxation, exercise, or play.  Some models of swim spas are diy-friendly and can be installed in an afternoon with simple tools.
image: Medallion Pools
Create A Grilling Station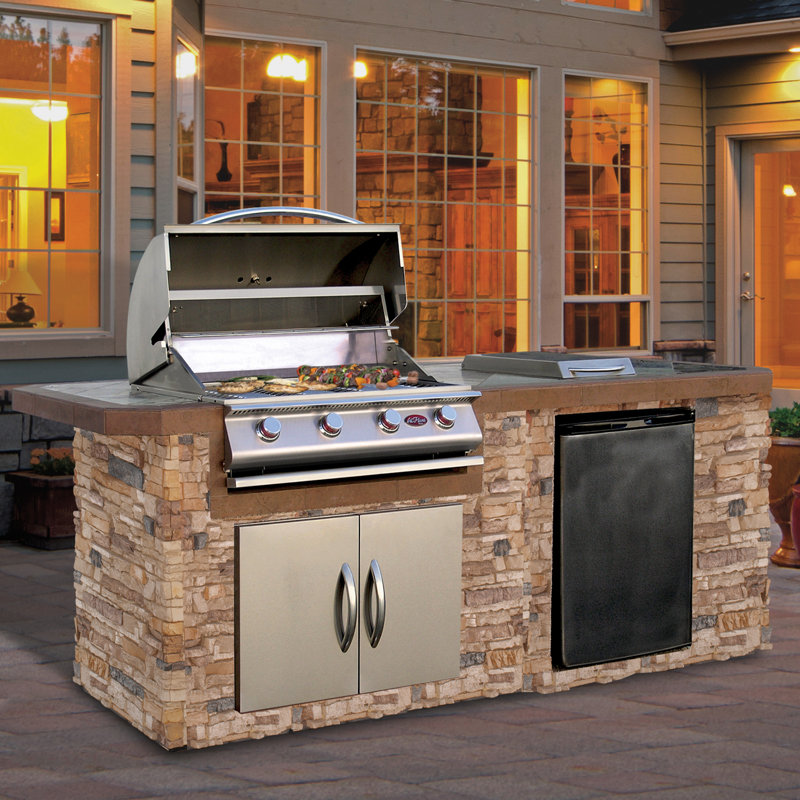 Cooking out is a great way to enjoy the outdoors, and its a magnet to draw friends and neighbors. You could consider building your own grill station or buy a grilling island like this beauty from Wayfair.
image: Wayfair.com
Relax In The Shade
Having a place to relax and get out of the heat is key to enjoying the outdoors, particularly in the summer.
There are many options and choices for defining a chill space and creating shade. You could consider building a pergola and installing slide shades that can retract on cables.  This way, you can let the sun in on those chilly Spring or Fall days, but keep cool in the blazing summer.

Grow a Butterfly Garden
Butterflies and other pollinators are seeing their natural habitat decline, so creating space for these creatures is important for the environment and for our food supply (no pollinators, no food!).  This all-in-one kit comes with everything you need to get started.
If you're planning out your own butterfly garden, check with a local nursery about which plants are appropriate for your climate, soil type and the amount of space your have planned.
Make A Plan For Yard Games
Your backyard parties can be the talk of the town with the right games and a little bit of healthy competition. No matter how much or how little space you have, there is certainly a game that can work in your space.
Some party favorites are:
Cornhole (aka, bean bag toss)
Bocce
Ladder Golf
Each of the games above can be put away when not in use, and don't require any permanent fixtures.  Bocce requires a good size level space, and can be played in the grass. If you really get into it, building a real bocce court should be on your to-do list.